Following the first Race for Water Odyssey, an expedition launched by the Foundation in 2015 to make the first make the first global assessment of the plastic pollution of our oceans, the findings are conclusive: plastic pollution is everywhere. There is no 7th continent, nor is there a plastic island, rather there is a soup of plastic waste that drift at the mercy of the oceanic gyres. Only a small proportion remains visible on the surface of the water. The bulk of it has sunk or fragmented into infinitesimally small particles. A large-scale clean-up of the oceans is simply unrealistic then. Solely land-based solutions can effectively combat this 21st century scourge.
How? Firstly, by encouraging everyone to reduce plastic waste and by pushing for more recycling. Also, by proposing new waste management models integrating a technology capable of converting plastic waste into electricity.
Plastic waste is the problem and the solution
Our plan: To encourage collection and convert plastic waste into a marketable energy resource
Through an innovative approach inspired by the circular economy and social entrepreneurship, we're targeting the creation of a new economic sector for plastic waste to encourage its collection. This solution will stem the rising tide of plastics, which are continually polluting the environment and contaminating the oceans. It will also benefit human health in general and disadvantaged communities in particular, as well as providing an alternative source of energy.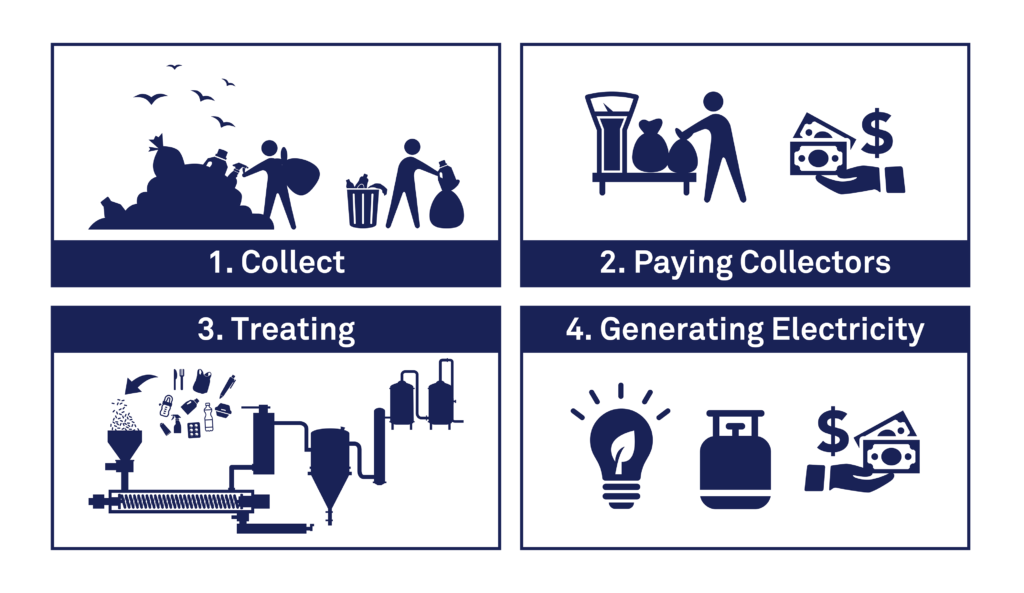 THE TECHNOLOGY: BIOGREEN® BY ETIA
After two years of research, today we are offering high-temperature pyrolysis technology, developed by the French company ETIA, which enables non-sorted plastic waste to be converted into electricity in the optimum way. The containerised process is easy to implement. Capable of processing 5 to 12 tonnes of plastic waste a day, these compact units can be deployed close to inhabited sites to provide street collectors with jobs and electricity for the population. According to the context, a single unit is enough to supply electricity to close to 6000 families.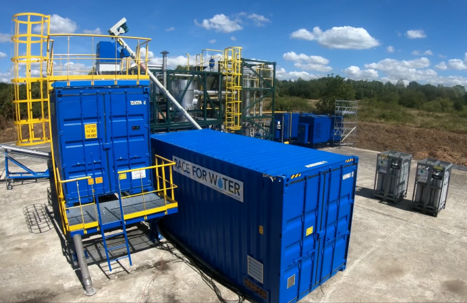 OUR "PLASTIC WASTE TO ENERGY" PROOFS OF CONCEPT PROJECTS UNDER STUDY
Read +
Potential sites for implementation
By 2025, we are keen for our model to be replicated worldwide so as to have a sustainable impact in the following domains:
ENVIRONMENT: Considerably reduce the annual quantity of plastic waste, which reaches the oceans and thus protect human health and benefit the survival of species.
ECONOMY: Give value to 'wild' plastic waste as a resource and produce energy for local populations.
SOCIAL: Create jobs and additional income for street collectors.
Joint action at an international level is essential to address the perils facing our oceans. Our plastic waste to energy model aims to tackle the issue of plastic pollution at source, by preventing plastic waste leaking into the ocean in the first place. Additionally, our projects will directly improve the health and life of local communities who are often the first victims of this worldwide issue.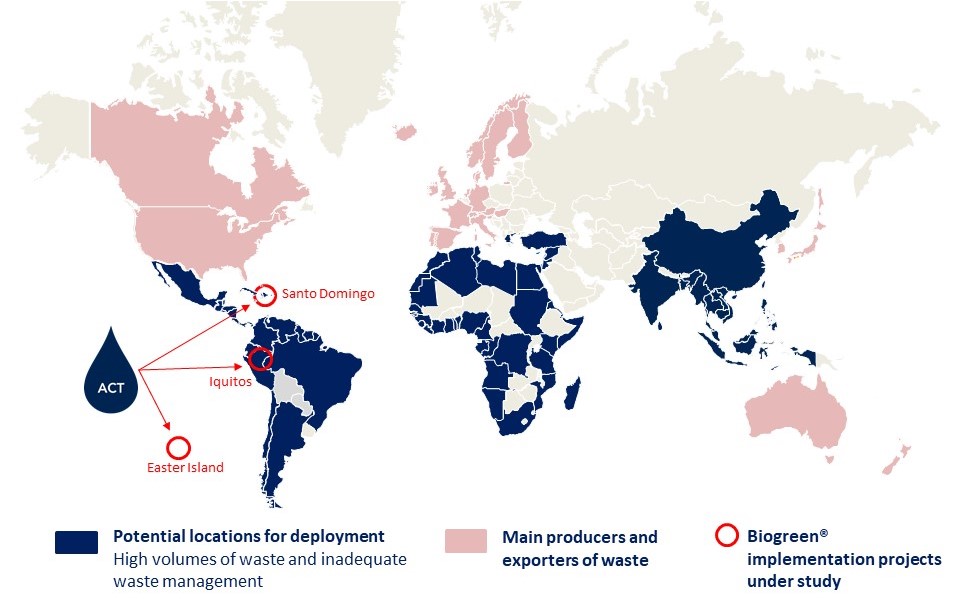 The collector
A SOLUTION FOR COLLECTING WASTE BESIDE THE SEA, IN RIVERS AND LAKES
Though it is unrealistic to try to clean up the oceans, it would seem wise to put in place clean-up systems around ports, rivers, lakes and near the coast. To this end, the foundation is proposing an efficient and environmentally-friendly vessel for getting rid of pollution, which will enable the amount of plastics that leak into our oceans each day to be limited.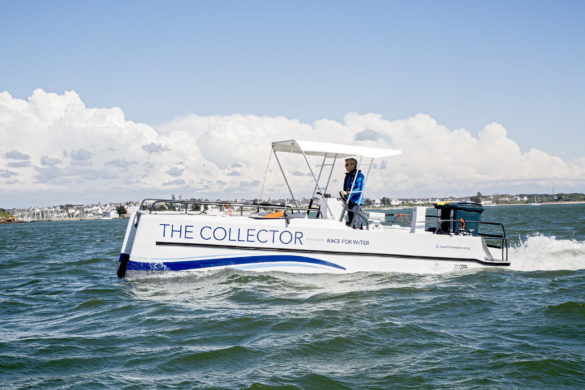 Help us combat plastic pollution of the oceans!
Makes a donation and join one of our programmes
Nous soutenir