Biogreen® is an innovative, patented process for continuous thermochemical conversion of biomass and waste residue that allows torrefaction, pyrolysis and high temperature pyrolysis treatment of various bulk materials.
This leading-edge technology can recover the high calorific value of plastic litter and convert it into an energy-rich synthesized gas (syngas) applicable for the production of electricity, methane and hydrogen. Hydrocarbons composing plastic waste naturally break apart when exposed to heat. High temperature pyrolysis in the absence of oxygen induces this breakdown that creates new products: gases, liquids and solids.
The process is based on an electrically heated screw conveyor: the Spirajoule©. Designed for advanced thermal treatment in high temperature pyrolysis conditions (up to 800°C). This technology allows perfect control of temperature and speed to maximize plastic conversion into syngas.
Thus, generated syngas goes through a refining process composed of different steps of filtration, scrubbing & condensation. This crucial refining step aims at eliminating dust, fine particles, tar, condensable gases, and other pollutants such as chlorine. The refined syngas can then be used as fuel to internal combustion engine to provide electricity or simply heat.
Ultimate waste is minimized with a target of maximum 10% of incoming volumes (subject to plastic inputs only and the use of the pyrolytic oil in the Syngas engines).
Compact & modular, the equipment can be containerized and set-up in as little as a few weeks, which makes it easy to integrate locally in higly contaminated area and close to the population limiting transport and logistic issues.
One machine can process between 5 and 12 tonnes of plastic waste per day, which is adapted to a population of 50,000 to 200,000 inhabitants and produce up to 2.5MWh/tons. According to the context, a single unit is enough to supply electricity to close to 6000 families.
A plastic waste to energy site can be set with several Biogreen® working in parallel allowing the treatment of higher capacities.
Biogreen® meets the strictest environmental standards and is CE certified. These small & medium capacities solutions favour decentralized waste management and energy production which are recognized for their efficiency, as well as their social and environmental benefits.
This innovative technological approach demonstrates that remote plastic waste can be an additional resource in energy transition.
Pilot project towards scalability
Our first machine is now operating on a French pilot site close to Paris to validate its energetic performance and assess its environmental footprint.
At the same time, a series of "Proof of Concept" projects are under study to showcase the business model, the social benefits and the positive environmental impact of the plastic waste to energy value chain in strategic places: islands, rivers and coastal cities.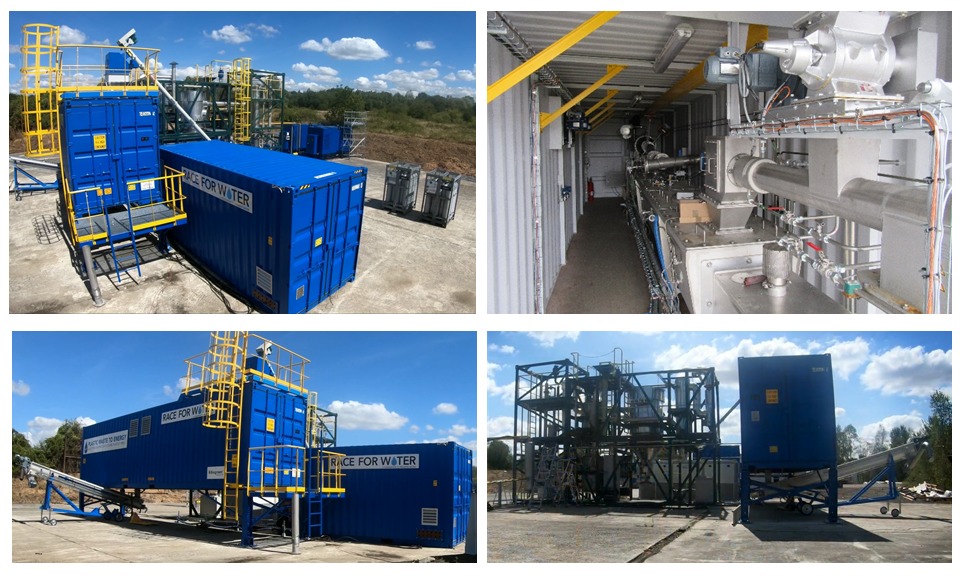 Time-lapse of Race for Water Biogreen installation on our pilot site in France :