The low-down on the stopover :
50
student welcomed onboard
Bula!
Race for Water has stopped at Nadi in the marina of DENARAU from 21 December 2018 to 19 January 2019. Like all the Pacific Islands, the Fijian Islands are facing a number of 21st century challenges. On the front line is plastic pollution and global warming. An annual growth in tourism of 6 to 8% spanning several years took the number of tourists to nearly 850,000 in 2017. That's nearly as much as the local population, it too continuing to expand. Meantime, industry here is one of the most dynamic in the Pacific Region. The Fijian islands are booming. However, this growth may prove disastrous if adequate infrastructure is not introduced to accompany this expansion. If we were to focus solely on the management of waste and plastic pollution, the analysis of this stopover would clearly be mixed.
Stopover review by Camille ROLLIN :
There are a number of heavenly beaches, but solely the private beach resorts are free of waste. The majority of public beaches are carpeted with detritus abandoned by the local population, and though this is certainly due to a lack of education, it is also influenced by the lack of infrastructure. There is a shortage of dustbins and they are not collected regularly enough, prompting the population to burn its rubbish at the bottom of the garden or beside the road. If there is a collection, the vast majority of the waste ends up in open landfill sites, which are often located close to waterways or the ocean. Just one of the region's rubbish tips complies with present standards. Indeed, the Naboro rubbish tip is equipped with watertight tanks and a system for recovering and treating leachates, which is contaminated liquid that drains out of rubbish tips and pollutes the soil and waterways. In this rubbish tip, a third of the population's waste is put into landfill. It's sad to witness this when you know that over half of this waste could be composted and a good third recycled or converted into energy. Half of the energy is still produced by diesel generators.
Fortunately, there are positive signs. In 2017, the Fijian government introduced a tax on plastic bags which today equates to 20 centimes a bag, considerably reducing their use. Furthermore, a law has been voted banning them from 2020 and other schemes are being brainstormed for single-use plastic. However, nobody seems to know if the tax on the bags has been used to invest in waste management infrastructure. There is a similar degree of vagueness around the use of the fund created in 2016 following the implementation of a 6% tax called ECAL, which applies to all the services related to tourism. And yet the idea is a good one since ECAL means "a lever for adapting to climate and environmental change".
We also encountered several protagonists seeking to turn the situation around. First off, we have the Marina du Port Denarau, which provided our vessel with a berth for one month. Cynthia Rasch, General Manager, has been battling for years to preserve the very precious environment of this Marina, which is nestled at the heart of the mangrove, on the west coast of the main island of Viti Levu. In fact, this is one of the rare places where the owner of every boat has to sort its waste. Over ten years ago, Cynthia managed to convince a local entrepreneur, Steven Buksh, to launch into the collection and sorting of waste and turn it into a business. Honeydew Farm now collects the port's waste, as well as that of all the hotels on the Denarau peninsula, as well as Nadi airport (Fiji's only international airport) and other clients from the region. There is an abundance of this waste in his collection, but the vast majority of it is recyclable waste and there is a cruel lack of outlets. Solely a fraction of the paper is recycled locally, the rest being sent overseas. With regards to plastic, only a handful of drinks brands agree to buy back the bottles collected. For now, Honeydew Farm is storing the unsold bottles and the rest of the plastic waste goes to the rubbish tip.
Further South, near the capital Suva, other manufacturers are looking to boost recycling on the island. This is the case for Paul Thomson Evers, even though he manages the Naboro rubbish tip, the income for which depends on the number of tonnes dumped here each day. Today, he receives nearly 9,000 tonnes a month, but he knows that the lifespan of his rubbish tip could easily be doubled if it was sorted beforehand. Together with another local manufacturer, Warwick Pleass, who notably owns two Fijian bottled water brands, they're seeking to create a genuine dedicated sorting and recycling area within the rubbish tip. Warwick is also pushing for a compulsory deposit on PET bottles. He's convinced that in addition to the benefits this would have for the environment, industry could reap economic benefits from such a scheme. There is a sizeable bottled water sector in Fiji encompassing several brands, which are exported internationally. If companies were encouraged to recover and recycle their bottles, the quantities involved would certainly enable a local market to thrive.
However, for the rest of the plastic, it's more complicated to find solutions. The remoteness together with the volumes, which are too small to ensure it is financially viable for a local industry, and the lack of equipment to get a material clean and sorted per type of plastic in order to be of interest to overseas outlets, are all factors which curb plastic recycling on the majority of the islands.
In the meantime, the mountains of waste are growing. The plastic waste to energy solution offered by Race for Water satisfies the inherent constraints of islands. In this way, non-recyclable plastics on the archipelago could be used as a local resource to produce electricity making management of this waste a viable option and stimulating the implementation of a selective sorting collection. These many plastics would be taken in hand and wouldn't end up in our oceans.
The Minister of Fisheries, Semi Koroilavesau, who is really making his presence felt alongside us, has promised us that he will put in place a task force to take action against marine plastic pollution, that has a direct impact on fish, which is the main source of food among the Fijian population.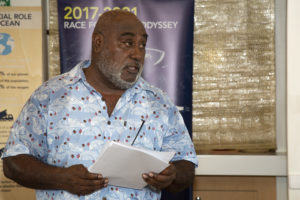 Island ecosystems are extremely precious and fragile. Every imbalance can very quickly have serious repercussions. However, any efforts made can also be rewarded just as quickly. We've sown the seeds and we hope that they will germinate and enable some practical solutions to be implemented in order to preserve this fabulous Pacific archipelago.
All about our stopover in Fiji through a short video by Peter Charaf:
Thank you to our local partners :

¿Le ha gustado este artículo? ¡Compártalo!
¡Ayúdenos a combatir la contaminación por plásticos de los océanos!
Hace una donación y toma accion con nosotros.
Apoyanos