Currently, research being conducted at the University of the South Pacific of Marine Studies has shown the presence of microplastics (MPs) in all near-shore water samples from around Fiji. There have been no studies previously done on MPs in Fiji waters and consequently the quantity of MPs which originate from Fiji as well as the amount which is brought in from other places by the South Pacific gyre is not known.
That's what Dr. Marta Ferreira, associate professor at the School of Marine Studies of the University of South Pacific (USP) wants to know. One of her research goals is to assess the presence of microplastics in marine ecosystems and their potential effects to the biota.
To help to answer it, 5 days of scientific expedition will be entrusted to Andrew Paris, a Fijian scientist from USP to proceed an evaluation of microplastics pollution in the surface waters between Tonga and Fiji from the edge of the Race for Water Ambassador vessel.
We interviewed him upstream to better understand his objectives.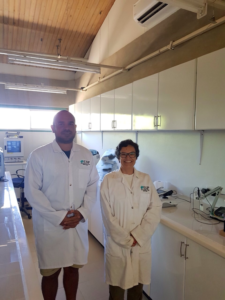 From left to right: Andrew Paris and Dr. Marta Ferreira in their laboratory at the University of the South Pacific.
What will you proceed exactly on board our Race for Water vessel?
As part of my Master thesis titled « Evaluation of the abundance and distribution of microplastics in Fiji surface waters », the objective of my stay in board would be to quantify abundance and determine distribution processes of microplastic (MP) in surface waters to the Southeast of Fiji. This would be done by conducting surface tows daily or twice daily, depending on weather/sailing conditions. The net will be deployed from the stern of the vessel for a total of soak time of 2-5 minutes, attached will be a flowmeter which will aid in determining the volume of water filtered. The net will then be retrieved, rinsed with sea water and contents at the cod end will be transferred to 1L sampling bottles. Samples obtained will be visually inspected and stored for processing at the School of Marine Studies laboratory at the University of the South Pacific in Suva, Fiji.
Did you have this kind of opportunity regularly or is it something new and remarkable for you?
This is the first time I have been given such an amazing opportunity to embark on a scientific expedition with such a prestigious institution. It is definitely something remarkable for me being afforded the opportunity to conduct Pacific-based research on the detrimental effects of MPs on board a technologically savvy and environmentally friendly vessel.
Could you tell us more how the work you will proceed on board will complete your research on marine debris and microplastics pollution in Fiji?
The work I will undertake on board will form a major component of my Master's thesis. The completion of this study will provide valuable insight into the levels of MPs found in surface waters around Fiji, the distributive processes and patterns and consequently the degree to which the Fiji marine environment is inundated with MPs of foreign origins. The research will aid in establishing baseline data on the levels of MPs in Fiji surface waters which will be the key in developing long term monitoring programs to detect environmental changes and evaluating the effectiveness of management actions related to plastic pollution control. Increased focus on MPs will allow for informed decision making at the policy level locally and regionally.
On a personal level, I would wish to build on the preexisting strategies created around marine plastic pollution awareness and advocacy and compliment the immense work of institutions like the Race for Water Foundation has done for the Pacific on issues pertaining to water preservation.
Reference:
Research Project of Marta Ferreira: Identification of sentinel species and biomarkers for monitoring Polycyclic Aromatic Hydrocarbons (PAHs), metals and microplastics in Suva coastal area.
Andrew Paris's MSc Title: The Abundance and Distribution of Microplastic in Surface Waters Around Fiji.
Link: https://www.usp.ac.fj/index.php?id=21099
Mission Partner :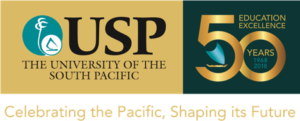 Help us combat plastic pollution of the oceans!
Make a donation and join one of our programs
Support us