Through the LEARN programme, we are contributing to the advancement of scientific knowledge regarding water plastic pollution, the consequences of which are still largely ignored.
Investigating in the field and with scientific experts
Odyssey 2015: a first odyssey dedicated to research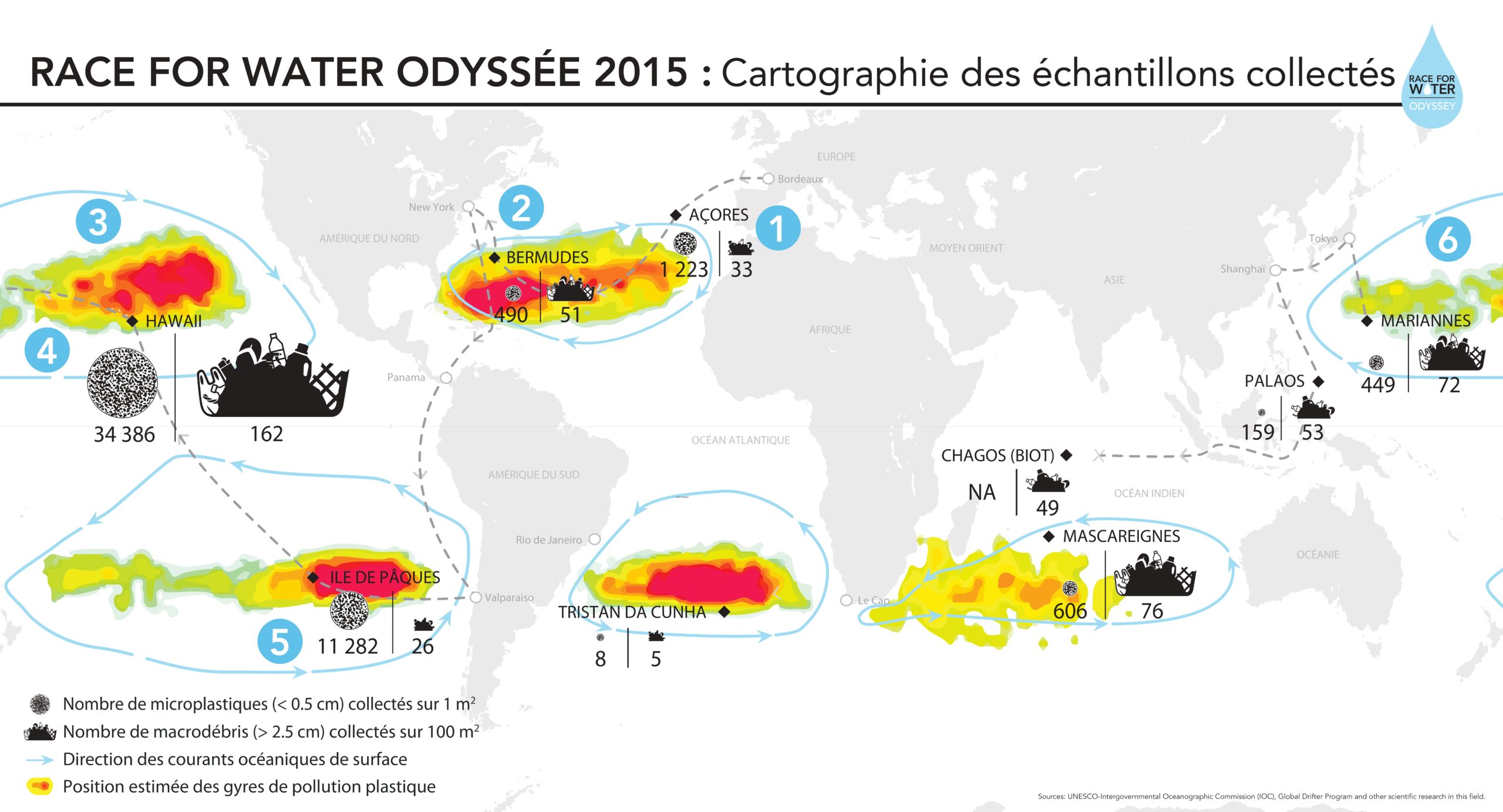 In 2015, the first Odyssey enabled a global situational analysis of this pollution to be made together with the initiation of scientific studies, the first results of which have been published in a scientific report entitled "Quantitative and qualitative analysis of the plastic marine debris collected along the coast"
The research topics are based on the study of macro-debris and microplastics collected on 30 beaches located within the zone of 'gyres' in the Atlantic, Pacific and Indian oceans.
Thanks to this expedition, we have been able to show that the majority of plastic waste washed up on the beaches in the heart of the oceans is very small in size. Referred to as "microplastics" by scientists, they concentrate the pollutants that end up in the water and have numerous toxic effects on marine organisms. A team of researchers from the University of Bordeaux in France has been working for several years on these samples collected to understand the eco-toxicological effects of microplastics on cells, embryos, larvae and juveniles of fish. Read the full results in the article we dedicated to this incredible scientific mission: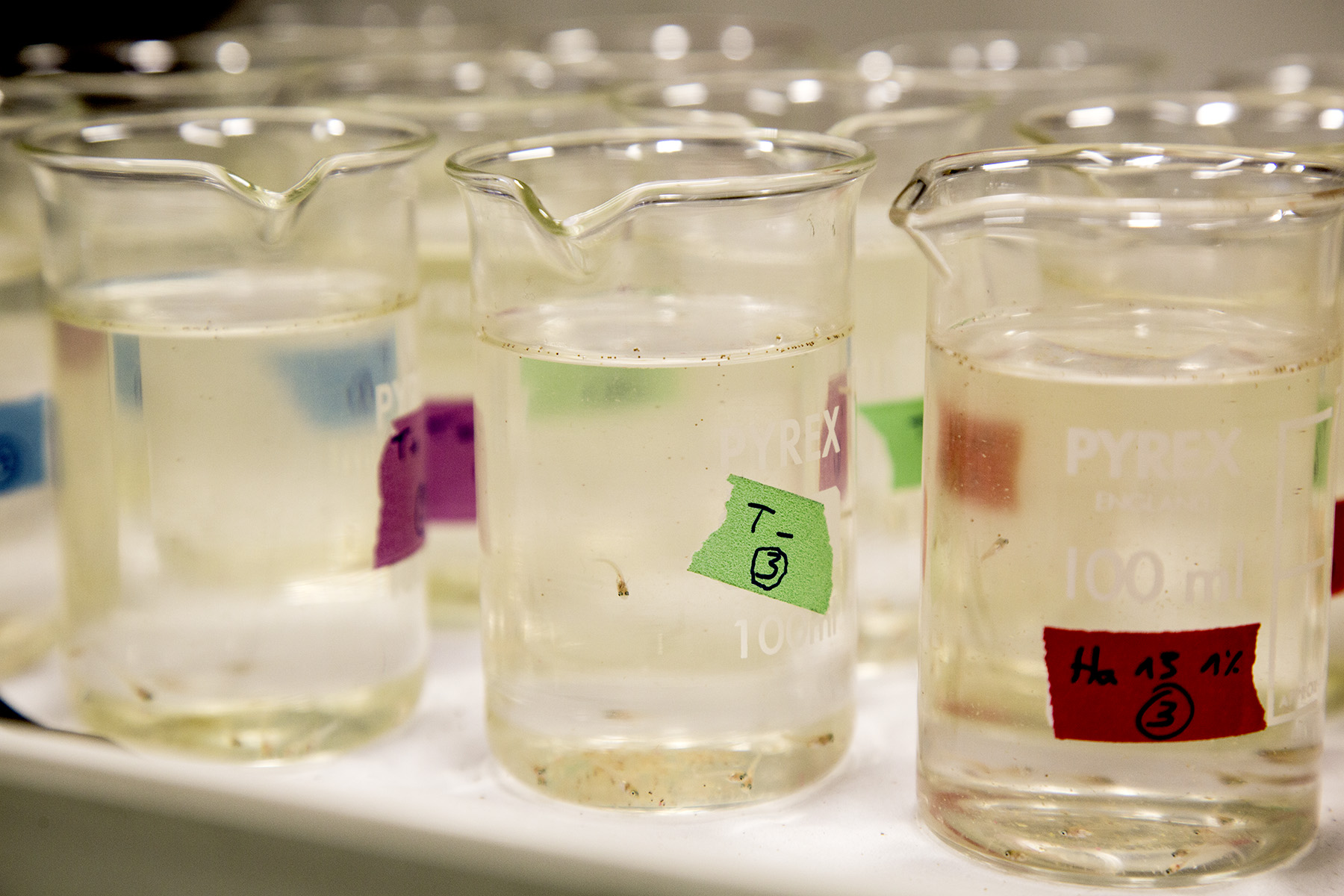 The alarming impacts of micro-plastics on fish larvae and embryos.
After 4 years of scientific studies and experiments conducted with our partners from the University of Bordeaux, ONIRIS in Nantes and EPFL in Lausanne, new edifying results from the Odyssey Race for Water 2015…

Odyssey 2017 – 2020: new missions on an exceptional vessel
Adapted for scientific expeditions, the Race for Water vessel was completely redesigned in 2016 to provide optimal working conditions on-board. Thanks to her 90m2 dedicated to research, her stability and her self-sufficiency in terms of energy, this vessel enabled to host teams of five to seven researchers specialised in researching the impacts of plastic pollution in the oceans. During the 2017-2020 odyssey, no less than 7 missions were carried out in order to contribute to the advancement of scientific knowledge on plastic pollution in the oceans.
A PLATFORM FOR EXCHANGE: "WATER GUARDIAN EXPERTS"
Following its first Odyssey, the foundation has also initiated an international communication platform to enable exchanging and sharing of its expertise with a view to turning the tide on plastic pollution of the oceans.
Today, this platform gathers together a whole community of experts, the majority of whom have been encountered during the stopovers for these two Odysseys: researchers, organisations, associations, institutions, governments, entrepreneurs and manufacturers.It is now open to the public.
Webinar series
Meet the experts
Our goal with these webinars is to continue to build bridges between scientists, opinion leaders, policy makers and citizens to accelerate some of the urgent changes our society needs to make to preserve the ocean and ensure a healthy environment for us all.