The "Race for Water Odyssey" (R4WO) left on March 15, 2015 from Bordeaux, France.This expedition aimed to analyse the beaches of the islands located within the perimeter of the 5 oceanic gyres in order to carry out the first global inventory of plastic pollution in the oceans and its consequences on populations. All this in a record time of less than 300 days thanks to a racing trimaran, the MOD70 Race for Water.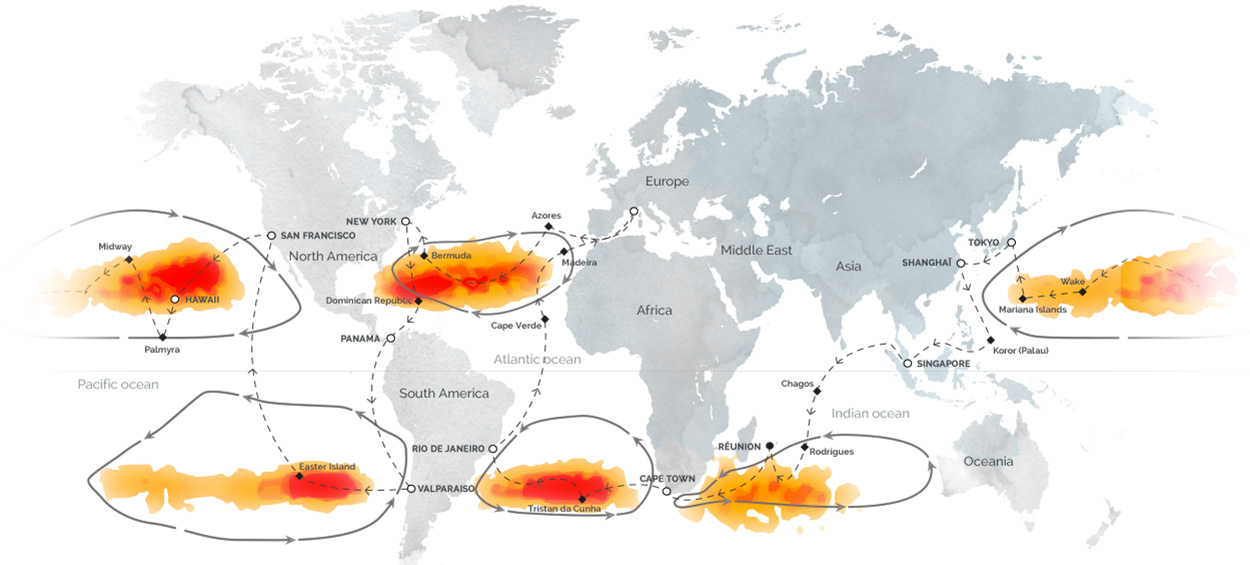 The crew also met with the different local actors (populations, authorities, NGOs, etc.) in order to understand their way of dealing with plastic pollution.
One year of expedition and the conclusion is clear: plastic is everywhere, in frightening proportions and mainly in the form of micro or even nanoparticles, reducing the chances of one day being able to clean up the Ocean. However, there is an urgent need to stop the bleeding and tackle the problem at its source, on land, by preventing waste from reaching the Ocean.
20 minutes to retrace a year of exploration of plastic pollution in the Ocean
An odyssey to STUDY
The islands located in the heart of the gyres, act as a natural barrier to the transport of waste by ocean currents, trapping it and accumulating it on their shores. Islands' beaches constitute a representative field of the type and quantities of waste found in the surrounding waters.
The beaches of the selected islands were studied using a standardized scientific approach based on the National Oceanic and Atmospheric Administration (NOAA) method.
Quantitative analysis of micro and macroplastics collected during the 2015 Odyssey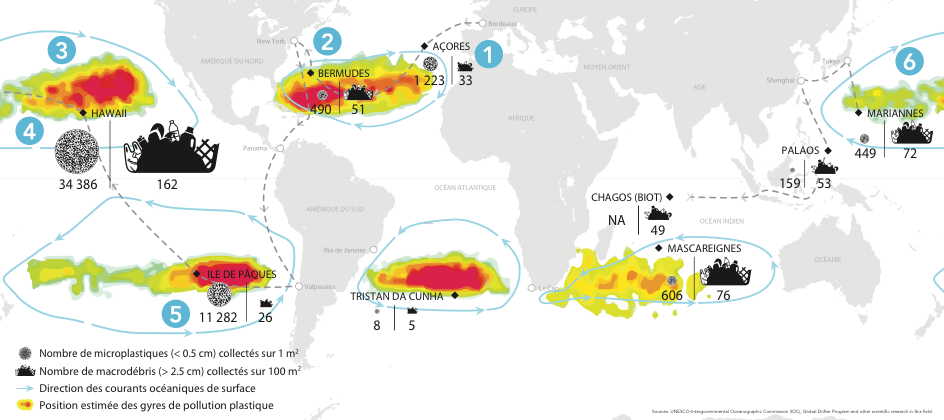 Find all the scientific expedition results on the page dedicated to our LEARN program.
An odyssey to raise awareness
Arouse the interest of the general public, industrialists, and legislators in plastic pollution is also an important goal of the expedition. At each stopover, the public, the media, local authorities and politicians were made aware of the problem thanks to the numerous actions and events organized. The team has done everything in its power to alert as many people as possible to the challenges of water and the need to fight against plastic pollution. A particular interest was given to the youngest through educational and playful activities as well as the creation of educational tools for schools.
"This expedition has been a great human, social, and scientific adventure. These 9 months have been sometimes trying, but all the data and knowledge acquired, all the enriching encounters we have been able to make, represent an essential asset to continue the fight against ocean plastic pollution" explained Marco Simeoni, expedition leader and president of the Race for Water Foundation, at the end of the expedition. "The Race for Water Odyssey is only the beginning of a long-term project. It is a springboard that will allow us to understand and define concretely how to move towards solutions. Following the Odyssey, our observation is clear: plastic pollution affects all regions of the world, it is everywhere. We need to act upstream, to prevent plastic from entering waterways by promoting waste recovery."
Discover all the videos made along the 2015 odyssey route: