They are taking action to fight plastic!
More and more of us are aware of the scale and impacts of plastic pollution around the world. This awareness is largely due to organizations like ours that work daily against this destroying scourge for our planet. For 3 weeks, we wanted to highlight these associations, activists... who act for the common good!
Break free from plastic
Break Free From Plastic is a movement that fights against the pollutions caused by plastic all along its life cycle : during the oil extraction stage, while the plastic product is used, during recycling up until landfills and waters contaminations. They confront petrochemicals by pushing for corporate accountability. They also promote systemic solutions by building zero-waste communities. Thanks to their movement they are shifting the narrative and changing policies. For example they set up this giant dragons who is spiting waste outside the Council of the European Union to raise awareness about the plastic waste issue. #BFFP is also known for their annual brand audit which expose the top 10 Corporate plastic polluters. Since the election of Joe Biden, the movement released its Presidential Plastics Action Plan, urging President-elect Joe Biden to take eight key executive actions to solve the plastic pollution crisis and become a #PlasticFreePresident. Race for Water is aligned with Break Free from Plastic strategy to push for stricter regulations on the entire plastic Industry and for an effective Producers Extended Responsibility system..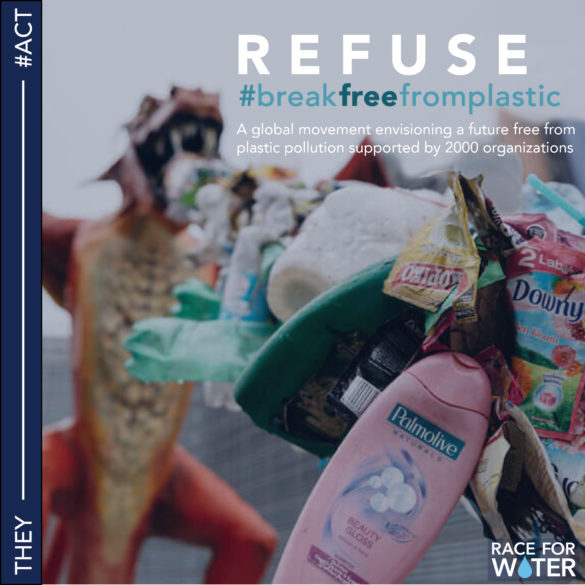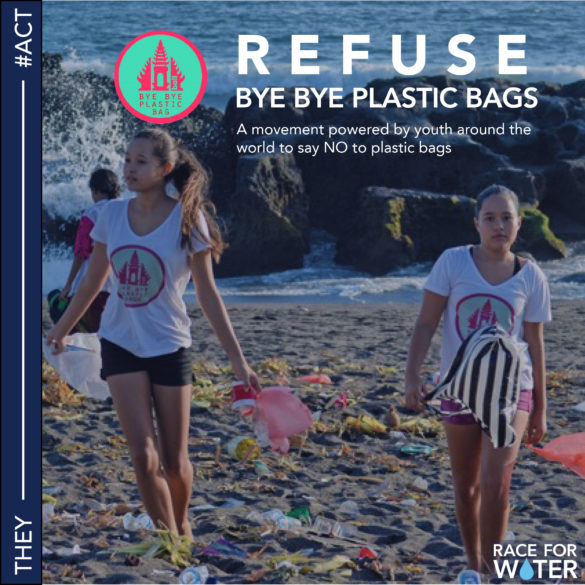 Bye bye plastic bags !
Melati and Isabel Wijsen, two young Balinese girls aged 17 and 15 respectively, created the «Bye Bye Plastic Bags» initiative in 2013 with the ultimate goal of banning the use of plastic bags in Bali. Through education, awareness-raising campaigns and the appeal of young people from all over the world. They highlight the power of future generations to address global issues. After several meetings with local government and various conferences, Melati and Isabel's wish was heard: since 2018, no more plastic bags can spoil Bali's beautiful landscapes. But they haven't stopped there! There initiative became a real movement spreading throughout the world and several countries have now adopted the mantra for the good of the planet. Youth is really leading our way out of plastic pollution ! Let's follow their movement and get inspired from it !
Parley for the oceans
Parley for the oceans is a foundation that works closely with individuals and corporates to avoid, intercept and redesign plastic. AVOID : Parley works closely with its corporate partners to reduce and replace plastic in consumption, production and distribution, and on educational programs for employees, partners and consumers. INTERCEPT : The primary mission of Parley for the Oceans is to save as many animals as possible. The global Parley network of cleanup organizations achieves this by removing plastic from shorelines and ghostnets from the high seas. REDESIGN : Parley partner products made with Ocean Plastic reposition recycling materials as desirable and contribute to the funding of AIR. An extensive research and development program focuses on up-cycling of marine plastic debris. You should definitely follow their work as you may have already bought one of their products created in collaboration with well-known brands.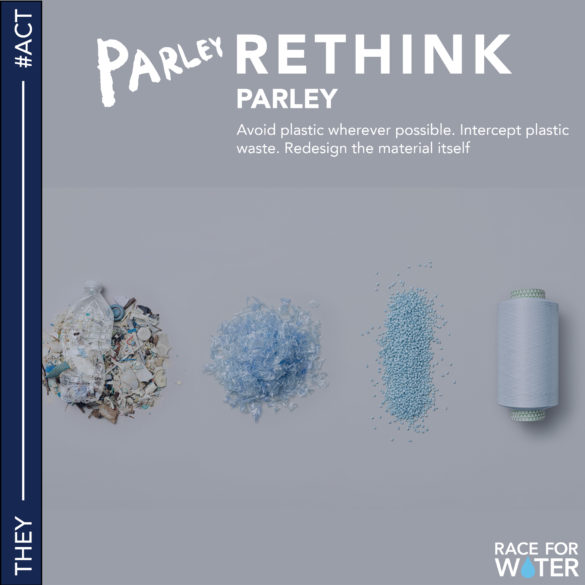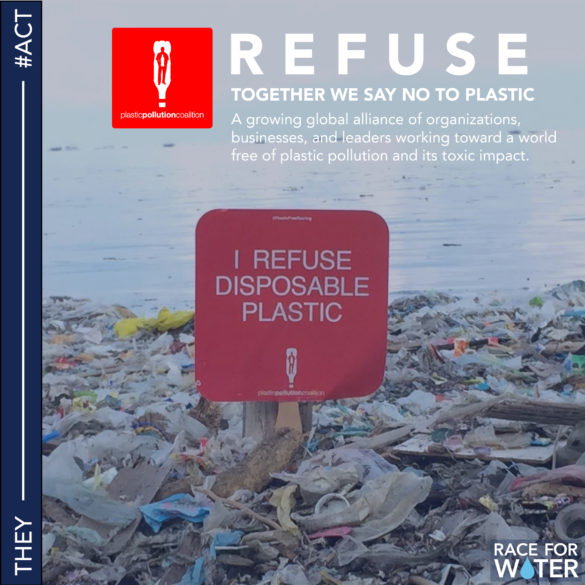 Plastic Pollution Coalition
Plastic Pollution Coalition is a growing global alliance of more than 1,200 organizations, businesses, and thought leaders in 75 countries working toward a world free of plastic pollution and its toxic impact on humans, animals, waterways, the ocean, and the environment. Their goal is that individuals embody zero-waste values and reduce the use of single-use plastic. Moreover they aim to drive NGOS to work together to drive demand for systemic solutions. Finally they are looking for Governments and Businesses to enforce regulations, legislation, and practices of a circular economy. One of their big project was a petition demanding Amazon.com reduce their plastic footprint on the earth. The campaign was timed with Black Friday and Cyber Monday, two of Amazon's biggest money-making days of the year.
Plastic Soup Foundation
Do you know Plastic Soup Foundation ? If you are interested to know the impacts plastic has on your health, we recommend you to follow their work. PSF is a an environmental non-profit working towards the elimination of plastic pollution. Their motto ? No plastic in our water & our bodies ! Some of their campaigns include : Beat the Microbead, Ocean Clean Wash, Plastic Health Coalition, My Little Plastic Footprint, World Cleanup Day, Schone Rivieren. If you have a smartphone you should download their app "Beat the Microbead" which reads the ingredient lists on the packaging and recognizes more than 500 different types of microplastics. You can immediately see whether the scanned product contains microplastics.Maybe you are already aware about plastic in your products, but do you know how much your consumption of plastic impacts the environment? If not, then "My Little Plastic Footprint" is for you! This app helps you reduce your plastic consumption by going on a plastic diet. Reduce your plastic usage and choose sustainable alternatives.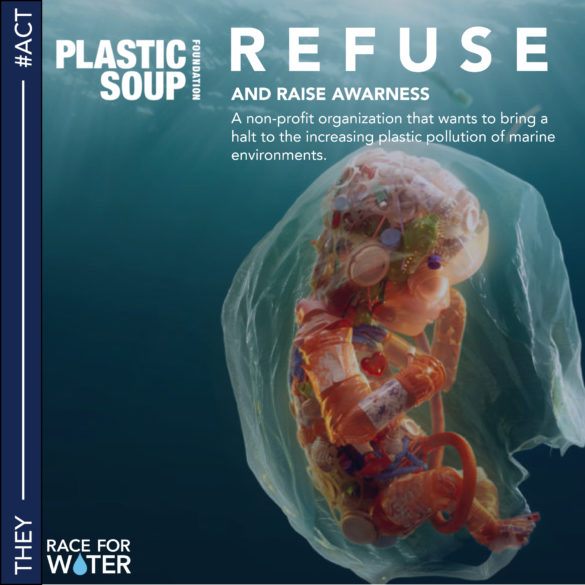 Plastic Whale
In 2015, the plastic whale created the first professional fishing company of…. PLASTIC ! The Plastic Whale started in 2011 with a fishing plastic event in Amsterdam. A few years later, they turned into a company. But they didn't stopped there. They also created a full school program which aims to involve kids in their mission. Like us in Race for Water Foundation, they trust in the young generation to be leading the fight against plastic pollution ! After collecting plastic from the Amsterdam Canal for 4 years, they worked with two companies on turning this waste into nice pieces of furniture !