The scientists from the EPHEMARE project are now back at their labs. On board Race for Water, they made full use of the ship's scientific equipment and facilities; we recently checked in with them, to get their initial impressions from their intense week of work in Bermuda and their collaboration with the Race for Water crew.
"The living space on board Race for Water, with its spacious and modular living spaces, is confortable and convenient. Scientific manoeuvres are facilitated with the use of floats, the Zodiac and the platforms were a big help in our scientific work. And the on-board lab is well suited for doing an immediate analysis of our samples!" reports Christelle, from the University of Bordeaux's EPOC laboratory. With scientists on board, Race for Water is a different place altogether. Anne, Race for Water vessel's mate, tells us, "On board, we have scientific instruments, diving equipment, and a Manta net. When we're hosting scientists, we do everything we can to help them do high-quality studies, as easily as possible and in a welcoming environment."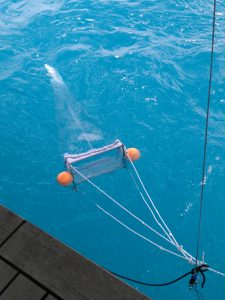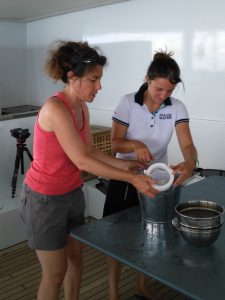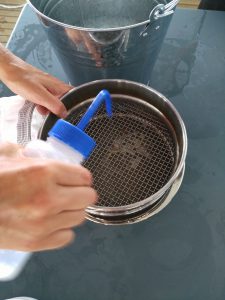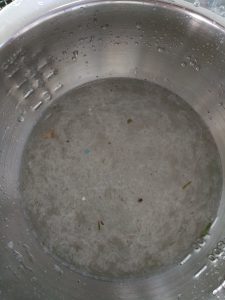 The EPHEMARE research program is spearheaded by the pan-European JPI Oceans project (Joint Programming Initiative for Healthy and Productive Seas and Oceans). It analyzes the toxic effect of microplastics on marine ecosystems. To further this analysis, the researchers took numerous samples in different coastal ecosystems, to better understand how microplastics are distributed in the ocean and how they accumulate in:
-Beach sediment
-Shallow marine sediment, five to eight meters deep, sampled with a Van Veen grab
-On the water's surface, sampled with a Manta net and a plankton net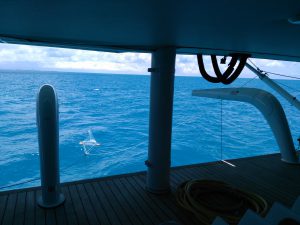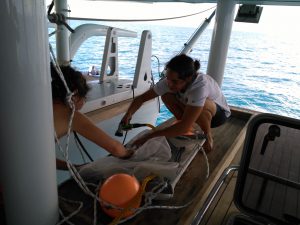 While the scientists were in Bermuda, they took samples on the beaches, while scuba diving and snorkeling in shallow water to collect organisms and sediment, and in the open ocean to sample the water column. On board Race for Water, the scientists dissected the sea cucumbers that they found in situ, to collect their digestive tubes. Back at their labs, they will then analyze the effects of microplastics pollution. By collaborating with Anne Hyde from Keep Bermuda Beautiful and Dr. Struan "Robbie" Smith, the European researchers also had the chance to visit the Bermuda Institute of Ocean Science's (BIOS) labs, where they talked to local scientists. They received invaluable on-site help from Philippe Max Rouja, a Bermudan scientific researcher. Christelle says, "Thanks to the excellent help we received from the Race for Water crew and the resources on the ship itself, we were able to sample the three zones that we had identified, and we're going back to the lab with a lot of samples and data to analyze! It was also a great adventure from the personal point of view!" She adds, "We networked with researchers in Bermuda who are also working on plastics pollution. Those kinds of conversations are very important for us, and they help us push our research forward."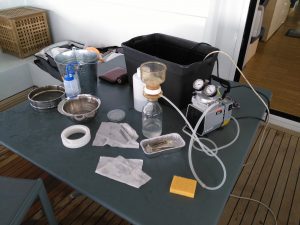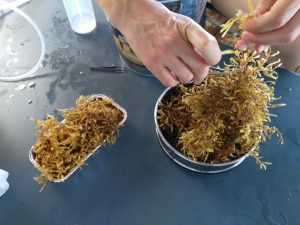 In a few weeks, Race for Water will host a new scientific project in Cuba, including the European WEATHER-MIC project and researchers from Cuba—it's sure to be a productive mix of people! We'll report back soon.