Japan: nine stopovers in nine months
Flexibility has been of paramount importance since the start of the year. The health crisis that is affecting the whole world has strongly impacted the Race for Water odyssey programme. The Foundation's catamaran was however able to complete a route around central Japanese waters with the help and support of our local partners Saraya and Zeri Japan.

Ishigaki, Okinoerabu, Amamioshima, Kagoshima, Sasebo, Fukuoka and Osaka. A total of nine ports of call have been visited and which each time have provided interesting meetings with key figures, always in small groups and following safety guidelines, who are hugely committed to the subject of plastic pollution of the oceans.
"In Osaka, we have just welcomed on board Mr Yusuke Saraya, President of Saraya Group and Zeri Japan, Mr Yoshimura, Governor of Osaka Prefecture and Mr Matsui, Mayor of Osaka. During the day, many Japanese journalists were able to discover our Race for Water and its innovative technologies as well as the solutions proposed to fight against plastic pollution. A day also marked by the presence of many entrepreneurs and professors of pyrolysis, plastics processing and bioplastics," explains François Martin, captain of Race for Water.
François is the only team member on board and works with a local crew "who are doing particularly well. Indeed, with the compulsory quarantines and border closures, it is complex to get the usual crew back. Thanks to our local partners, we have been able to find sailors. I have given them the various instructions so that they are quickly operational when our Race for Water has to reach a port. A big tip of the hat and thanks to Aki Shimizu, captain, Richard Burke, first mate, Ryo Katayma who was first mate on the Japanese school ship Maru, Juneh Higa from Okinawa and Junkoh Tanaka, our steward who comes from Osaka!".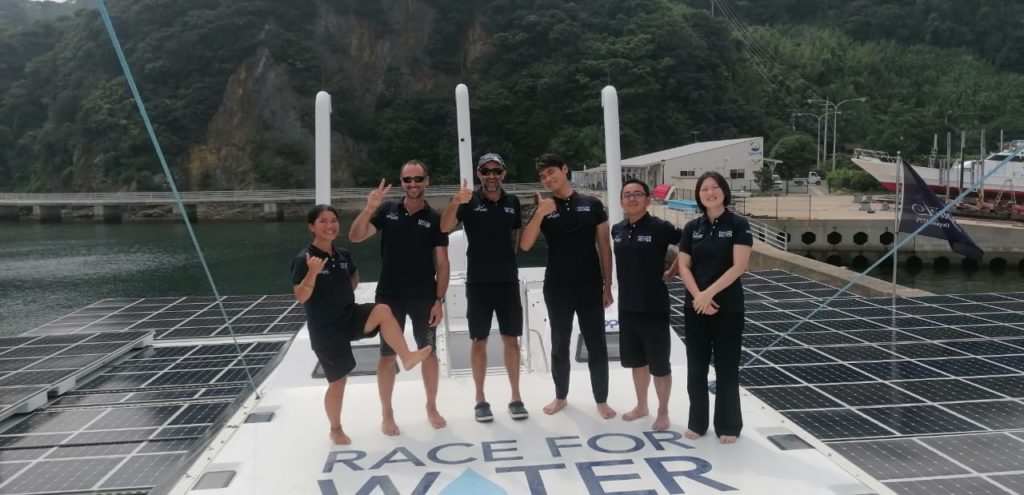 Next port of call: Nishinomia and Tokyo in a few days where the teams of our partner Breguet are waiting for us…