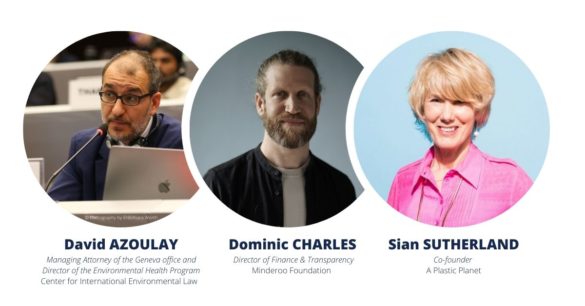 The experts
David AZOULAY, Managing Attorney of the Geneva office, Director of the Environmental Health Program at CIEL
Dominic CHARLES, Director of finance and transparency at The Minderoo Foundation
Sian SUTHERLAND, Co-fonder of A Plastic Planet
Webinar #3
You may not realize it yet, but a lot is currently going on at the United Nations level regarding the future of plastic.
An international treaty on plastic pollution is currently being discussed between member states and other stakeholders such as representatives of civil society organizations and of the plastic Industry. Some nice steps were also crossed in 2020 in the EU with the European Plastics Pact. And after it failed to pass under the Trump Administration, the US Break Free from Plastic ACT is getting good momentum following the election of Joe Biden. In many regions of the world, our plastic addiction is being debated at the legislative level and this is great news.
We therefore thought it was a good timing to get an overview on the current plastic pollution legislation framework, reflect on the aspects of the problematic which require the most urgent laws, and show how some organizations do work to obtain regulations changes.