AMICi Mission underway!
An eight-day scientific expedition (running from 6 to 15 February 2019) at the start of the Race for Water Odyssey in New Caledonia will be dedicated to researchers from the IRD New Caledonia (Institute of Research for Sustainable Development) to bring their AMICi mission (Accumulation of Microplastics in Coral Islands) to a successful conclusion aboard the Race for Water platform in Prony Bay.

This AMICi mission is managed by Dr Claude Payri, Director of the Joint Research Unit UMR ENTROPIE (Tropical Marine Ecology of the Pacific and Indian Oceans) of the IRD New Caledonia.

AMICi Mission: metals and microplastics
The AMICi mission aims to analyse the impact of metals and microplastics on the health of coral islands.
To do this, there are 4 scientists aboard, Dr Ricardo RODOLFO METALPA, Dr Leila MEISTERTZHEIM (President of Plastic@Sea), Dr Fanny HOULBREQUE and Valentine MEUNIER will study two sites:
– The first at the heart of Prony Bay enriched in metals
– and a second one further south, near Bonne Anse, which will be the control site.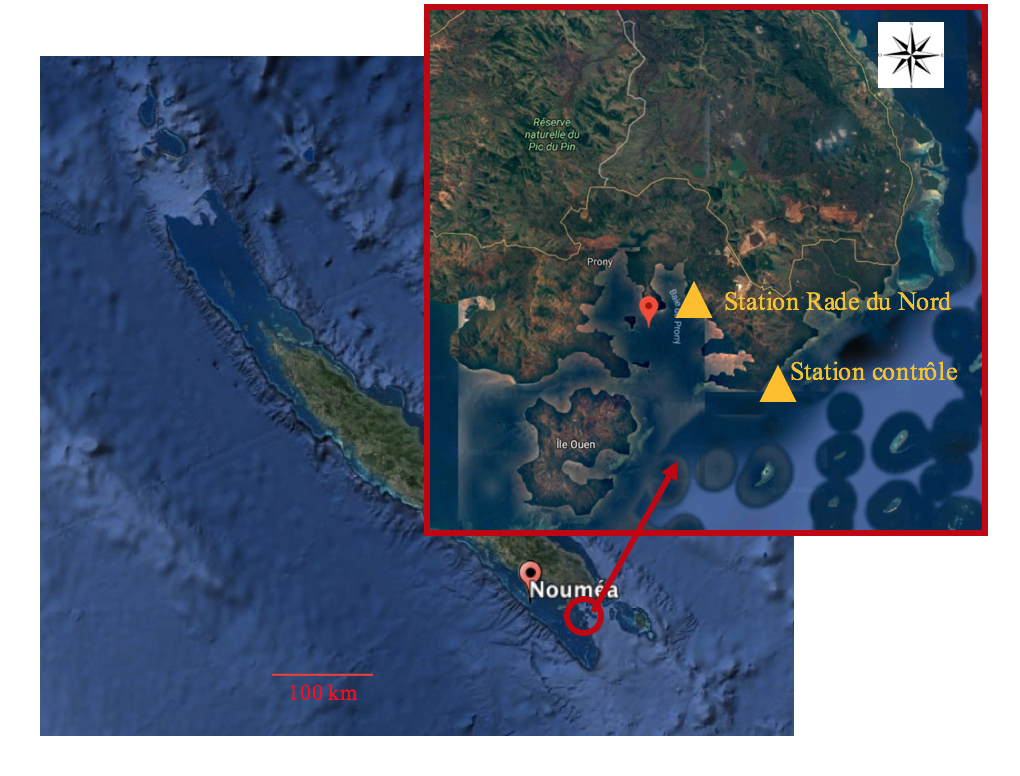 In this way, two main research activities will be carried out at these two sites:
The study into the incorporation of atmospheric nitrogen by the coral islands in a metal-enriched environment.

For this initial research activity, a 4-day mission per site will be devoted to the collection of corals and the incubation of these corals aboard the Race for Water vessel. Water sampling will also be performed on these 2 sites during this expedition.
The study of in situ ingestion of microplastics via 2 species of corals.

In conjunction with this first activity, 8 days of experimentation will be carried out via scuba diving with the in situ incubation of 4 benthic chambers on each of the 2 sites. In this way, three benthic chambers will be put in place and two different species of coral will be incubated in these chambers, in which suspended microplastics will be injected. These three chambers will be compared to a control chamber not containing a coral colony. (Copyright : © CNRS / E. Amice Chambres benthiques)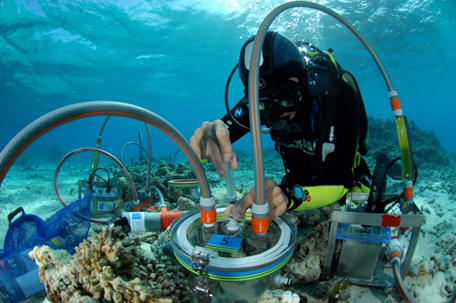 Educational activities
In addition to the scientific mission, IRD New Caledonia's partnership with Race for Water will also focus on the organisation of educational workshops. Activities will be based on the MARECO coral reef teaching toolbox (published by Bioviva). This toolbox is an introduction to reef ecology and raises awareness among the young generations about the impact of plastic pollution in the New Caledonian lagoon. A tour of the Race for Water vessel by local schoolchildren in Nouméa is scheduled from 25 to 28 February 2019 in connection with the Province Sud and the Symbiose association. This same toolbox will be entrusted to the crew of Race for Water for future stopovers in Indonesia and Asia.
Communication activities
During the New Caledonia stopover, schools which come and visit the Race for Water vessel will also get to see the IRD exhibition "Voyage to the heart of the reefs", which will be presented in the Province Sud premises.
Finally, a public conference will be organised by the IRD and the Province Sud (C'nature Conference) on 26 February at 6:00pm to present the Race for Water Odyssey and the scientific mission carried out in Prony Bay, which will be an opportunity to debate the environmental challenges, which have an impact on coral reefs.
Testimonies
Dr. Claude Payri
Director of Research and the UMR ENTROPIE at the IRD New Caledonia
"The Race for Water vessel's stopover in New Caledonia is the perfect opportunity for our ENTROPIE team to initiate a study in this region into the impact of microplastic on the physiology of reef-building corals. At a point where various initiatives are thriving in a bid to combat this scourge, the IRD's researchers are delighted to be able to utilise this vessel to contribute to the research, whilst at the same time limiting the environmental impact and preserving the tranquillity of this fabulous Prony Bay."
Nina Julié
Elected representative at the PROVINCE SUD in charge of the environment
"For a number of years I've been involved in the struggle to combat plastic-based pollution. New Caledonia boasts an extraordinary environment, which is an exceptional source of richness. As a result, reducing plastic waste is a priority for the Province Sud. "Race for Water" offers a practical solution for converting plastic waste into energy, whose implementation in New Caledonia is certainly worth discussing. I think that the Race for Water expedition is an opportunity to provide food for thought and also raise local awareness, especially among the youngest members of the population, about the harmful impact of plastic."
Nina Julié
President of the Agence Calédonienne de l'Énergie (New Caledonian Energy Agency)
"The Agence Calédonienne de l'Énergie was created among other things to promote renewable energies, as well as innovation, which is necessary for energy transition in New Caledonia.
It is a matter of urgency that we reduce our dependence on fossil energies. The latter are no longer sustainable for our environment and our economy. If we want to develop our energetic sovereignty, we must keep a close watch on innovative technological solutions."
Thank you to all our local partners, without whom this AMICi scientific mission could not have been held aboard Race for Water in New Caledonia.