On June 1, Race for Water hosted her first on-board workshop on plastic waste management. NGOs, industry representatives and local politicians had the chance to meet and learn about the Race for Water Foundation's vision, and about potential solutions.
Race for Water Foundation president Marco Simeoni noted, "This meeting on board Race for Water was a rousing success, bringing together Sylvan Richards–Bermuda's Minister of Environment and Planning, industry representatives, engineers, and local NGOs. These results have definitely motivated us to organize more sessions like this one!" One of the Foundation's missions is to initiate a multi-stakeholder dialogue on plastics pollution, and then, to spark a movement—encouraging these stakeholders to work together to find solutions.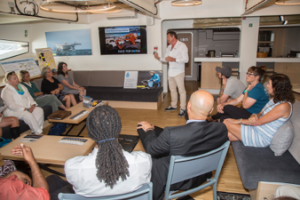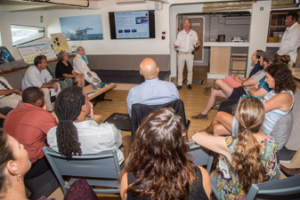 Race for Water Foundation president Marco Simeoni kicks off the morning workshop with Serge Pittet, Director General of the Foundation.
A SENSE OF URGENCY
The session had barely gotten going when Sylvan Richards, Bermuda's Minister of Environment and Planning, described what's at stake, and why we must act urgently on this issue. "Plastic is everywhere. On an island such as ours, where we're proud of our natural beauty and history, plastic has become a real threat: to marine ecosystems, to our economy, but also by contaminating the food chain and thus, human health as well," Richards said. He then added, "Yes, plastics pollution has been acknowledged as a global threat, but I'm convinced that the solution must be local."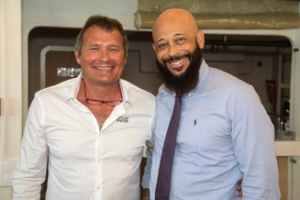 "We hope to continue our ongoing relationship with the Race for Water Foundation. On our end, we'll keep creating effective policies for fighting the plastics that are clogging our oceans," says Sylvan Richards.
NGOs, industry representatives and engineers then spoke about the many actions that are in progress. Anne Hyde, president of the NGO Keep Bermuda Beautiful, explained, "We've created a marine debris working group, including multiple organizations on our island. Our goal is to raise public awareness of the impact of marine debris on the oceans, to assess the quantity of marine debris that washes up on our coasts, and to develop initiatives to reduce our waste production." Geoff Smith, an environmental engineer with the Bermuda Ministry of Environment and Natural Resources, added to the discussion, giving his assessment of the major role played by local environmental policies and regulations. Nasir Wade, an engineer from the Tynes Bay Waste to Energy Facility, presented a historical overview of waste management in Bermuda, and the strategic choices made to provide solutions to this ever-growing problem.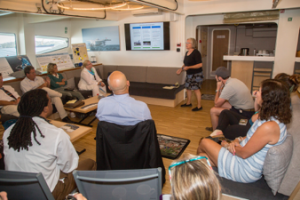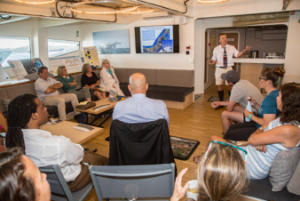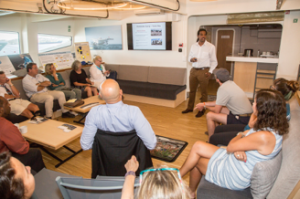 Up to down: Anne Hyde, Geoff Smith and Nasir Wade speak during the workshop.
A NEED FOR SOLUTIONS
The Race for Water Foundation's vision is to prevent plastic waste from reaching the oceans, through improved collection of plastics on land. Marco Simeoni explains, "We're currently working on a technology called Biogreen®, with our partner ETIA. This will allow us to convert discarded plastics into an energy resource. This will have an economic, environmental, and social impact." This news sparked many questions from the ecological, social, and environmental perspective– Foundation members and ETIA Director Olivier Lepez were thrilled to answer. Camille Rollin, a specialist with the Race for Water Foundation's Plastic Waste-to-Energy project, added, "Right now, the technology that we're demonstrating shows that solutions exist, and that this technology can help us start solving the problem fairly quickly. These innovations make even more sense in isolated areas such as islands. But solving the plastic waste problem also requires coordinated, simultaneous activities—educating the public about managing, recycling, and collecting waste." From June 8-13, Race for Water will host students and other visitors, in order to educate the public at large.